When you need to send a targeted email to a one-off group of contacts rather than your static lists, you can send a tracked email to those contacts The same analytics (opens, clicks, etc) are tracked from these emails, giving you the same insights you get when sending content to your lists.
Tracked emails are ideal for:
Targeted email for a specific firm or segment of customer.
An introductory email to prospective new clients.
Smart follow-up based on previous readership behaviour.
Sending a Tracked Email
Click into Manage Lists (top header).
Click into your My Contacts page.
Check the boxes next to the contacts you wish to send your email to.
Click the Draft Email button that appears once you check off the contacts you want to include.
A pop-up window will then generate where, if desired, you can include a mail merge tag.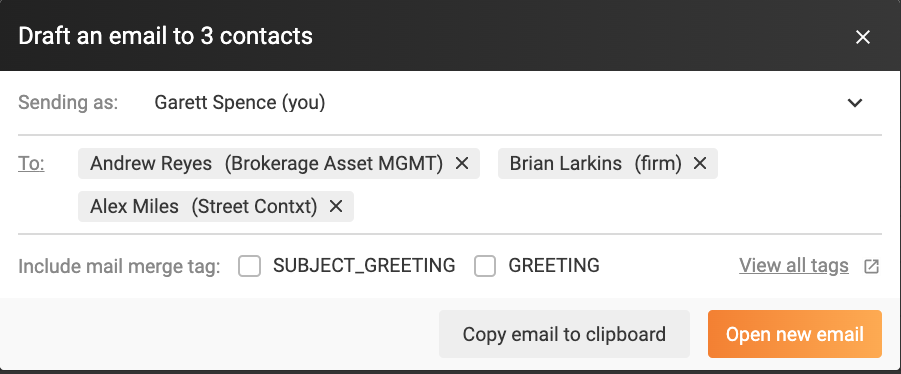 Click Open new email to open a new email in your mail client. The To: field will be pre-populated with a "tracked-email" address, representing the selected contacts. All you have to do is compose your email and send.
Click on the following video for a quick overview on how to create a simple tracked email:
Sending to a Single Contact
You can send a tracked email to a single contact on one of your lists by either following the steps detailed above, or by clicking on the contact to open the right-hand sidebar and clicking the Draft Email button at the top of the bar.
You can also click the Draft Email button located at the top of any Contact Insights page.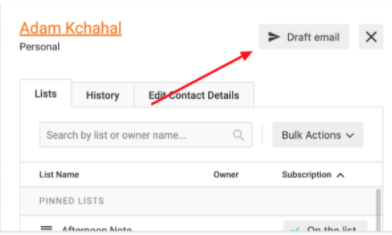 Using Tracked Email to Follow-Up
Clients miss emails all the time. Ensure that your important content gets their attention, by following up with a brief email (ie: "I wanted to make sure you saw this as the seats for this event are going quickly").
Under your Emails tab (top header), click into an email you've previously sent to bring up its corresponding Email Insights page.
Select the contacts you wish to follow-up with by checking the boxes next to their name. Note that the filter buttons at the top of the list will isolate based on readership behaviour (Read, Didn't Open, Rare Activity, etc.), making it easy to accommodate any use case for following up.
Click the Draft Email button that appears at the top of the Contacts table to send them a follow-up.