Listed below are the updates deploying this week
Grouping Visible Recipients
We have enabled the Grouping Visible Recipients feature for most users. The next time that you send a tracked email an eyeball icon will appear in the Draft Email window. By clicking this icon, recipients will be able to see each other's email addresses in the To: or Cc: field.
We've heard from both banking and equities users that they see lots of value in recipients of an email seeing each other in the "To" field. Oftentimes this is to make emails appear more natural or reduce confusion amongst recipients.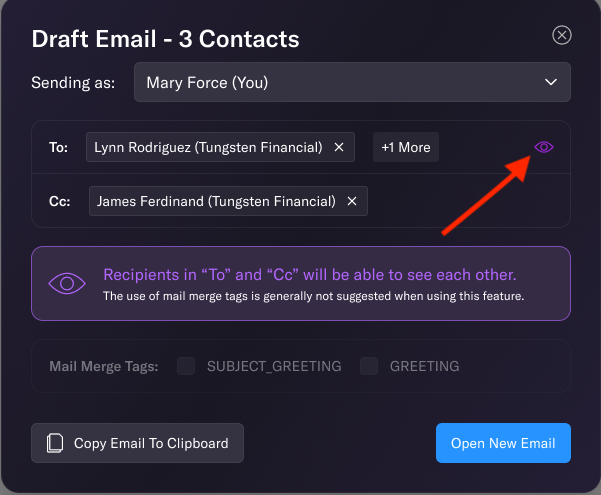 Bug Fix: Watchlist Star
A reported bug on the Priority Star feature under the Watchlist tab automatically changing state without a user's input has been fixed. Details on our watchlist feature can be found here.
Update to User Profiles
We have added "Business Ops" as an option under the Function field for users to choose from.
Password Enhancement
Going forward any user creating/resetting their password will be asked to confirm the new password by typing it in twice to ensure both fields match.