When an email you've sent through Street Context can't be delivered to a particular email address, a bounce error is generated. Users are notified when email bounces from a contact in a few different ways:
If your own company manages your bounces, all notifications are sent directly to the sender of the email from the receiving mail server.
If Street Context manages your bounces, notifications happen one of two ways, depending on whether the bounces are hard or soft.
**NOTE: if you're unsure as to which of the above setups your company has, please contact our Help Desk.**
Hard Bounces
A hard bounce is generated when the recipient's email address is invalid. The address may be misspelled, may not exist or has been deactivated (ie: the recipient is no longer at that firm).
Any contacts on your lists that have generated a hard bounce are indicated under the Inactive Contacts tab on your Contacts page. These contacts should be removed from your lists as soon as possible to ensure a solid sending reputation with ISP's. You can remove these contacts by following the steps shown here.
You will also be notified of any Inactive Contacts on your list(s) via an email notification. Example subject line "Resolve your 15 inactive contacts":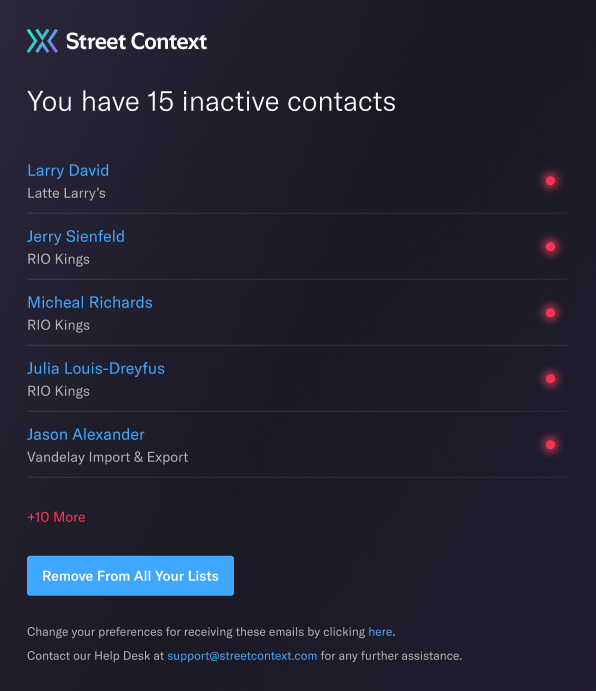 Soft Bounces
A soft bounce typically indicates a temporary delivery issue such as connectivity problems with the receiving mail server, the mailbox being full, or that the recipient blocked the sender for whatever reason. If a contact is repeatedly generating soft bounces, you should let the contact know as soon as possible. They may need to report the matter internally with their firm's IT team in order to resolve.
If you send an email to any contact that generates a soft bounce, they will be indicated on the Engagement Alert notification you receive 30 minutes after sending, along with the reason for the bounce:
If you aren't receiving engagement alerts, you can activate them in your account by completing the following steps:
From any page, click the icon in the top-right corner of the screen and select Account Settings.
Select "Receive an Engagement Alert email 30 minutes after sending an email".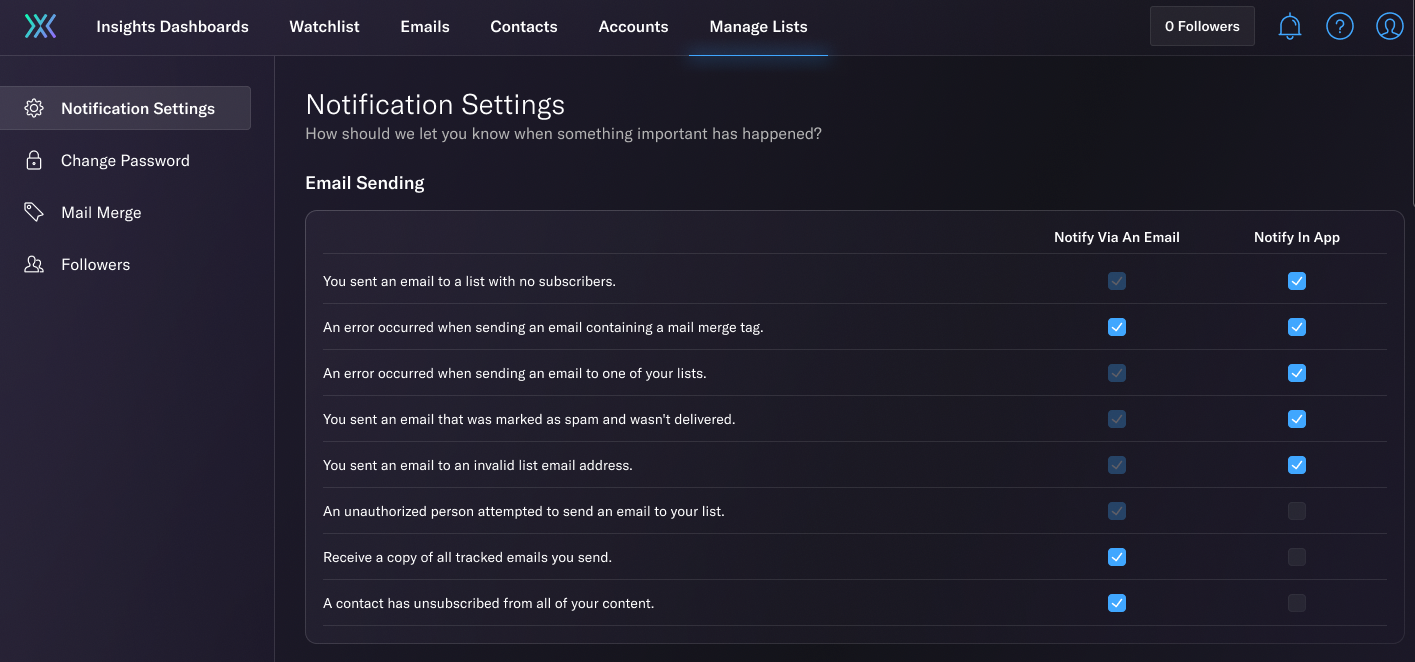 If you ever need further assistance with investigating or managing bounces that are managed by Street Context, please reach out to our Help Desk.