Street Context uses a contacts model similar to a CRM, as your software shares contact information between users at your firm. Contact details only have to be updated by one person at your firm to be up to date across all of your firm's Street Context accounts. They can be pre-filled out if another user already has that contact, reducing the chances of mistakenly entering incorrect contact information.
Company Contacts
Under Manage Lists, the Company Contacts page contains all of the contacts owned by everyone on your team, including yourself.

Editing Contact Details
To manage and edit your contact information, perform the following steps:
Under Company Contacts, or All Lists > My Contacts, click the row of the contact who's information you wish to edit.
On the bar that opens on the right-hand side of the screen, click the Edit Contact Details tab near the top.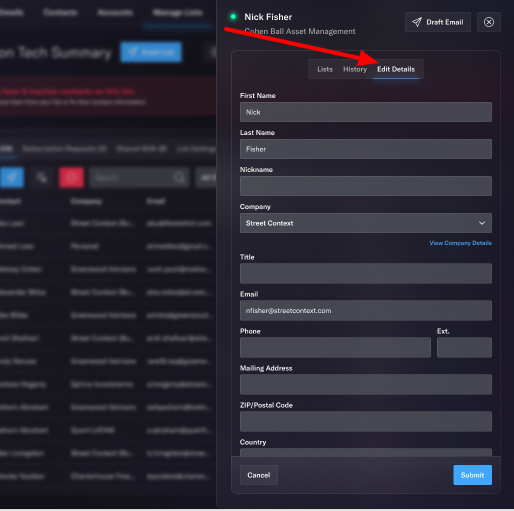 Adding and Removing Contacts
The steps for adding or removing a contact are as follows:
Click on a contact in My Contacts or Company Contacts to open the right-hand sidebar.
On the sidebar, every list you own or have shared with you will be displayed. If you want to add a contact to a list, click on its respective Add To List button. under the Subscription column The button will then change to On the list.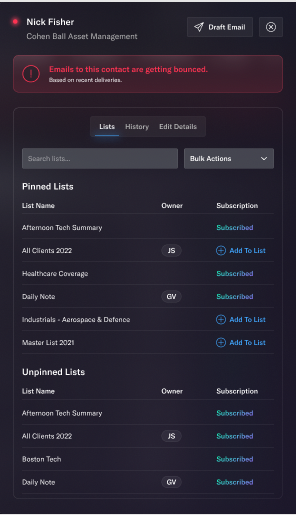 If you want to remove a contact from a list, click the On the list button.
You can add / remove the contact from every list at once by clicking on the Bulk Actions drop-down at the top of the table.
Contact History
You can view the edit history of a contact by clicking into them to open the right-hand sidebar and then clicking the History tab. What lists they were added to, when and by whom will be detailed under this tab.
NOTE: you can also view the history of your lists by following the steps detailed here.